14th November 2008
Surprisingly chatty and upbeat relative to the last few days, she sprinkled the journey with little bits of irrelevant information as I made away from the entrance to the university. It's been more than a year since I left the academic life, and still, there were no stirring memories of sweet nostalgia as I swerved away from it.
Almost out of self-realization that she might be talking too much, she consciously stopped herself from talking as she saw me focusing on the heavy Friday night traffic. I smiled to myself, partially at her rather adorable self-realization, but more so due to the fact that I preferred her this way, chatty and cheeky as compared to the sombreness that she bore over her just-elapsed "Hell Week," something I could definitely relate to and definitely relish shunning over the last year or so.
Signboard
Unsurprisingly late (by her hand, instead of mine this time round), we walked past the stone-tablet of a signboard, down the steps to the reception counter to make our presence known. Being ushered past a courtyard of dining-Caucasians, we were shown our seats within the confines of the bungalow house proper, a largely open space with white-washed walls lined with mostly light-brown wooden decor, the interior was mostly a orange-lit cosy affair.


Not needing to be an elaborate weatherman to read the signs of her face after a good 14 months, I asked the waitress, "actually, could we get a table outside?" Despite an earlier choice made during reservation, she was accommodating enough to prepare a table for us with the rest of the rather-distinguished expat / tourist crowd.

Basking in dim candlelight, under the warmly lit shelter that still preserved the outdoor-courtyard-dining experience, our table was seated next to a little "moat", while a tasteful black-and-white Marilyn Monroe film on a big screen in the chill-out lounge area served as our animated backdrop for the night.
While the outdoor decor has hardly as elaborate as other outdoor-bungalow-converted-boutique-dining-experiences such as Oosh or One Rochester, what Graze lacked in extravagance, it made up for it with a greater sense of intimacy and cosiness.
We studied the menu under the dim light briefly before placing our orders, I already had a craving for pasta, the only choice was to decide on which one. Having been pre-warned about the servings if we were to choose our dishes to be in "main course" proportions over "entree", we decided to keep our orders small for the time being to prevent my usual habit of gluttony.
Complimentary garlic bread was served to soothe my overwhelming appetite, and it managed to out me out at least until the oyster shots were served. Going with the exotic sounding Ginger Wine Oyster shot, hers came in a little shooter filled to the brim with a reddish wine that had a little stinging aftertaste, but hardly overwhelming.
Ginger and Vodka
My Vodka Sorbet Oyster shot got the unanimous vote of being the better shooter with its biting, Vodka sting atop the slightly-sourish alcoholic content. Still, there is just something deeply satisfying to the tongue and the throat to raise the bottom of a shooter glass with an oyster drenched thoroughly in alcohol. Too bad my stomach tends to disagree with me on this more often than not.
The much-awaited main courses soon followed as my Linguine was served to the table along with her Duck Risotto. Deeply yearning for pasta over the last 2 weeks or so, I took a customary quick whiff of the dish to wet my appetite before raising my fork and spoon in anticipation.
Sniff and Whiff
Cooked with Wild Rocket, Pork Sausage, Bilbao and the unmissable essence of Garlic, the dish satisfied my long-yearning craving as I tasted the essence of the different ingredients thoroughly soaked into the linguine. One can almost never go wrong with pasta and garlic in my opinion.
"You know, these days, I wonder if linguine might actually be my favourite type of pasta," I told her as I fumbled with the fork and spoon trying to twirl the linguine onto the spoon.
Fumbling Fool
"I mean, when I was younger, my definite favorite was definitely Ravioli, but as I get older, I wonder if I start to like Linguine more than that because it absorbs the essence of the pasta better, and as you know, for me these days, I'm starting to like lighter flavoured pasta than has more focus on the essence," I said, all while still battling with the linguine with my fork and spoon.
Duck Risotto, Hardly the Duck Rice that most go by
She beat me to the punch by feeding me a spoonful of her main course. Rich with flavour, and characteristically salty of duck, the Risotto was soft and finely mashed and baked into a starchy yet satisfying finish. The richness of the flavour actually made me wonder if my tastebuds have really matured as much as I thought that they had, since the richness of flavour was still very appealing to me. But then again, one can probably only indulge in THAT much richness before the effect is ultimately neutralized.
Despite warnings of the large serving sizes, we still had space to fit in a little dessert to put a sweet finish to the night, and of course, as always, to satisfy my sweet tooth. Insisting on something cold, her wish partially came true with the "Black and White" dessert.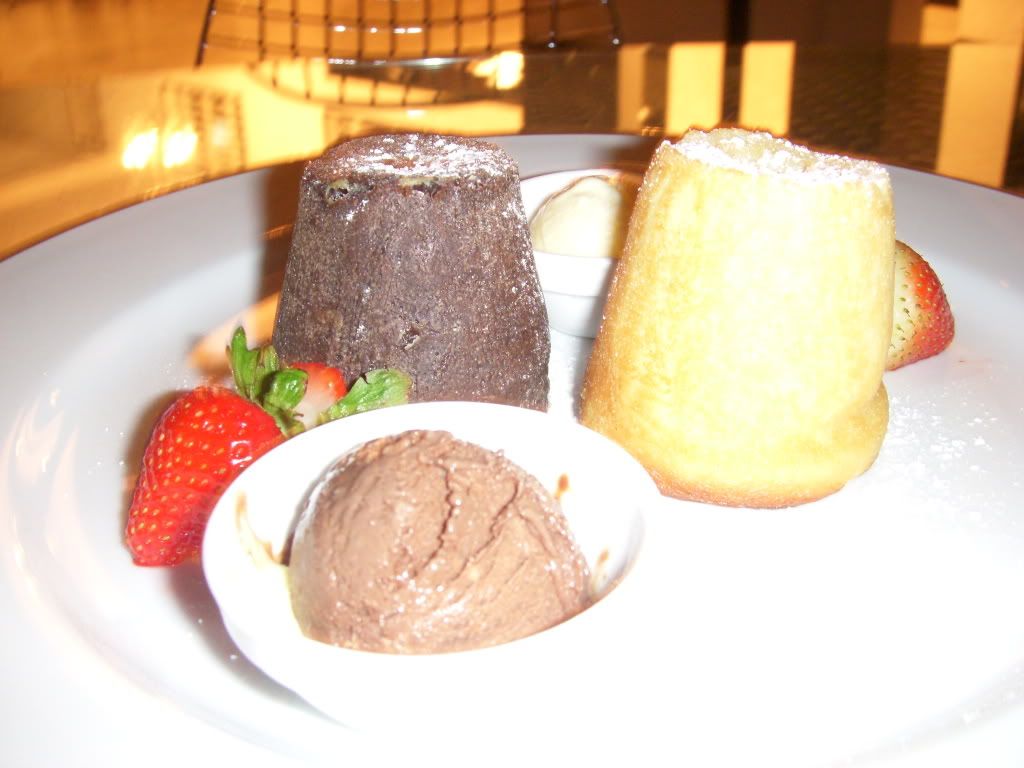 Black and White
One dark chocolate and one much-rarer white chocolate lava cake, served with complimenting dark and white chocolate ice creams, the name was a fitting one indeed since they took it to the literally ends of it. Familiar with dark chocolate cakes by now, it held its own against most other dark chocolate cakes save Morton's extremely mind-blowing one. But the white chocolate cake was definitely unique in its own right, with its almost caramel-like filling.
We scooped up the last bits of fudge off the plate as we sat almost alone in the silence. Most of the crowd had cleared, and we were the 1 of the 2 tables left in the courtyard enjoying the tranquility of the ambiance, as the 1950s film continued running in the background.
Contemplative Couple
She probably wanted something a little more loud and cathartic to celebrate the end of her tiring week, but still decided to sacrifice that to enjoy a little quiet and soothing night out with me instead. Yet, in the end, I would figure that probably she didn't mind a single bit; afterall, it should be the company that counts, and of course, I was good company.
Better Company than I look like I am
As we walked up the stairs and away from the restaurant, I thought to myself: perhaps to celebrate the end of a tiring "Hell Week" that I have long shaken the shackles off of was purely an excuse for extravagance, one that I all-the-more should not be indulging in considering the recent turn of events in my financial situation and all. Yet, perhaps at the bottom of it all, there is no necessary justification in the first place to what to spoil those that you treasure in the ways that you can, and share good things with.
As with walked down the hill hands held together naturally, I knew deep within myself that it is not everyday that one can find happiness in the eye of disaster, and sometimes, its worth giving up the Pot of Gold for the brief moment of magic of a Rainbow.
14 / 14